Dia de los Muertos
 Las Cruces effectively has a population of about a quarter million. The city itself is a bit over 100,000 and the nearby places, such as Mesilla comprise the rest. The area of El Paso & Juarez about 50 miles away has a population of about 3 million. While located in the Chihuahuan desert, it is the heart of the Mesilla valley, an area of rich farmland straddling the Rio Grande. Much produce is produced locally, including many fruits, nuts, wine, vegetables, and of course, our famous local chile. The area has been settled for thousands of years and is one of the oldest European settlements in the country. It was in the heart of the old west with Billy the Kid and Pat Garrett. The area is now an interesting mix of college town, art colony, farming community, retirement mecca, and government labs and bases. It is one of the safest places to live in the US in terms of crime, and is consistently rated among the best run small cities and nicest places to retire in the US. We are about 60% hispanic, a true blend of cultures on the border.

City of Las Cruces and Organ mountains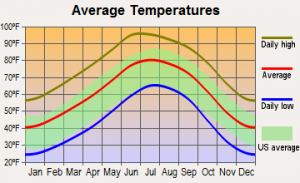 Weather data for Las Cruces
We have a high plains desert climate. It is mostly sunny, and relatively little humidity. This means that the air does not retain heat. When the sun is overhead it is warm, and at night it is cool. In the middle of summer, it will be beautiful at nighttime, and in the coldest of winter, you are usually fine with at most a light jacket. Temperature also varies a lot with height. Las Cruces proper is about 4000 feet above sea level, the Organ mountains about 9000. They often have snow caps in the winter, and are quite beautiful. There is nice skiing about 2 hours away, and you can ski on the same day you swim outside. In the middle of the summer, it is too hot to be active outside in the afternoon.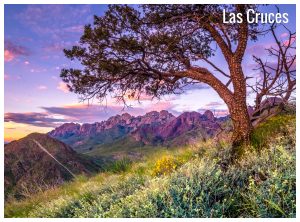 Outside Las Cruces, overlooking the Organs.
The photos shown are all from within an hour of Las Cruces. The rest of the state is equally beautiful, with an incredible variety of geography. The north has high mountains, world class skiing, whitewater rafting, and vast pine forests. The central parts have prehistoric ruins such as Chaco Canyon, and places such Acoma Pueblo where until relatively recent times people native to New Mexico lived much as they had for many hundreds of years. It is a very interesting place to live.
| | |
| --- | --- |
| | |
| Local artist | Elephant butte park |

White Sands national monument